Be part of our first year and help support the maker community. 2022 will be a 1 day event and sponsors will reach thousands of people.
We are seeking sponsors to help continue to grow this DIY extravaganza in our community. Hundreds of Makers and thousands of attendees of all ages will participate in exciting exhibitions, demonstrations, and hands-on activities while enjoying interesting presentations/speakers, food creations, live music, and visual and performing arts.
Tinker Space Sponsor: (Sold Out)
Combat Robot Presenting Sponsor: $1000+
Place your signs around the fighting arena. There will be a 75 person bleacher setup and lots of banner space around the pit to display your sponsorship. These funds will be used as prizes for the winner(s).
Maker Faire is a gathering of fascinating, curious people who enjoy learning and who love sharing what they can do. From engineers to artists to scientists to crafters, Maker Faire is a venue for these "makers" to show hobbies, experiments, projects.
We call it the Greatest Show (& Tell) on Earth – a family-friendly showcase of invention, creativity, and resourcefulness.
Glimpse the future and get inspired!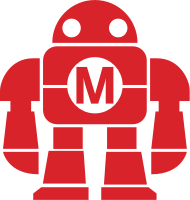 Why Sponsors Love Maker Faire from Make: on Vimeo.